To celebrate China's I Love You Day on 20th May, we've been working to develop a new art installation in the heart of Edinburgh.  Linking the Chinese New Year of the Ox with Scotland's iconic Highland Cow, artist Ian Kirkpatrick has created Citadel of the Stars which is now on show at VisitScotland's i-centre on the Royal Mile in Edinburgh.
The Scottish Confucius Institute for Business & Communication supported the creation of the artwork as part of its cultural programme. Professor Ian Baxter, SCIBC Director, notes "We were looking for a singular object to bridge the gap between an Ox and a Highland Cow in a meaningful way. The coo was the anchor point – the perfect mash-up of both cultures and we were inspired by Ian Kirkpatrick's striking style, and his approach as a contemporary artist using sculpture to explore Chinese culture. The 20th of May is China's equivalent of our Valentine's Day celebrations – the pronunciation of 520 in Chinese is very similar to the pronunciation of I Love You, and what a wonderful message to be spreading as the UK starts to slowly come out of lockdown."
Ian Kirkpatrick is a Canadian contemporary artist currently based in London. His work is inspired by the history of art and design, from ancient cave paintings and Greek amphorae to graffiti and computer graphics and has been exhibited across the UK and internationally, with shows in New York, Chicago, Montreal, Berlin, Rome and London. He has produced commissions for the London 2012 Olympics, the Tour de France, and the Oxford Museum of Natural History – and has completed public art projects in Leeds, Middlesbrough, Amsterdam and Rotterdam.
The sculpture is visually striking in form, and contains intricate detail and iconography which the artist has developed from a project over the last six months with the Confucius Institute exploring historical and cultural stories and symbols from China. Ian provides some further background on the project below.
Further information on the Ian Kirkpatrick's work can be found here: Selected Work – Ian Kirkpatrick's Portfolio and his instagram feed is here: https://www.instagram.com/iankirkpatrickartist/
---
Citadel of the Stars
Ian Kirkpatrick writes: "I was delighted to work on this project and took my inspiration from a quote by Carl Sagan that promotes the idea of friendship between nations. As a result, much of the iconography is space-related, including images of Chang'e 5. I am very much looking forward to seeing Citadel of the Stars in situ in Edinburgh.
"We're children equally of the Earth and the sky…National boundaries are not evident when we view the Earth from space…when we see our planet as a fragile blue crescent, fading to become an inconspicuous point of light against the bastion and citadel of the stars."

Carl Sagan
"I was inspired to create the piece as an exploration of Chinese graphic design – in particular New Year Pictures (níanhùa) from the 19th and 20th century.
"I wanted to create a piece that brought together many auspicious images from past and present, creating a sculpture that promoted good fortune and success for the upcoming year.
"I was especially interested in the recent successes of the Chinese space program. The Chang'e 5 probe recently completed its successful journey to the moon and back. Meanwhile, another probe – Tianwen-1- is currently in orbit around Mars and will attempt to land a rover this summer.
"After a very difficult year, it is inspiring to see China – and other countries – exploring space with successful missions. It reminds us that there is a vast universe beyond our small earth, but also makes it clear to us that we must collectively protect our planet – our only home – and work together to solve humanity's complex problems."
The sculpture has lots of imagery to discover on it – and each detail has a story attached. Ian explains a little more about his own creative exploration and interpretation of the details: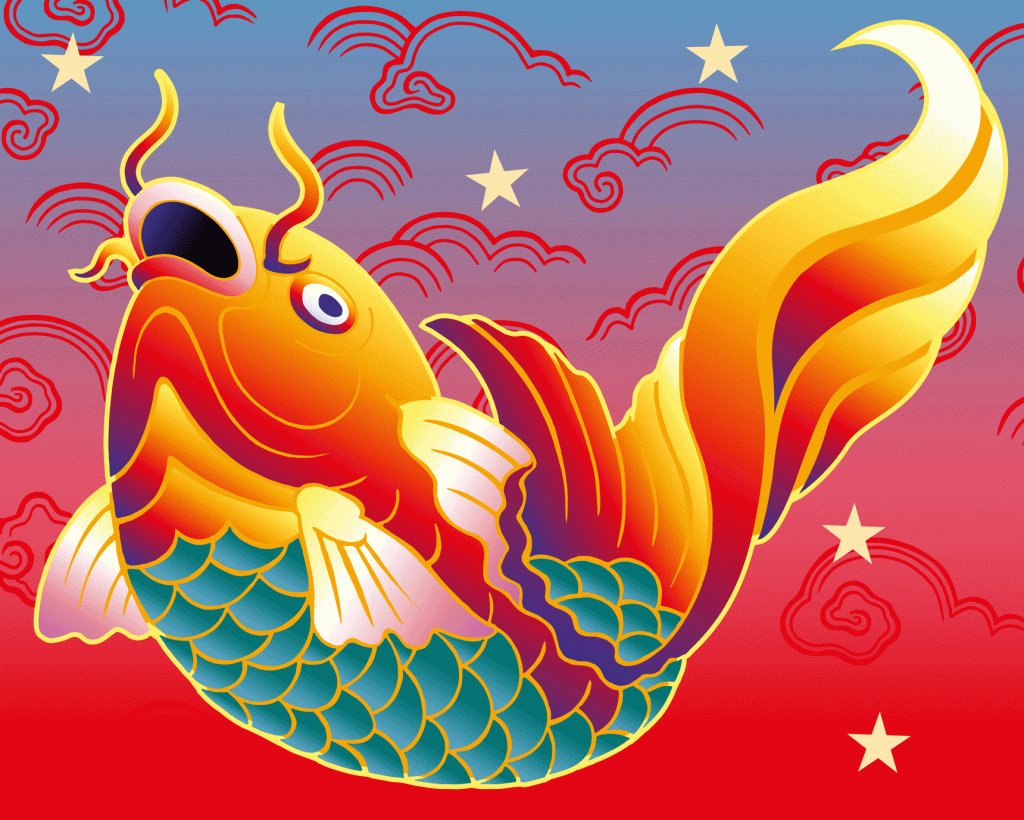 Koi
I wanted to include an image of koi as it appears in many New Year Pictures and give me a chance to work with fluid lines and lots of rich gradient tones.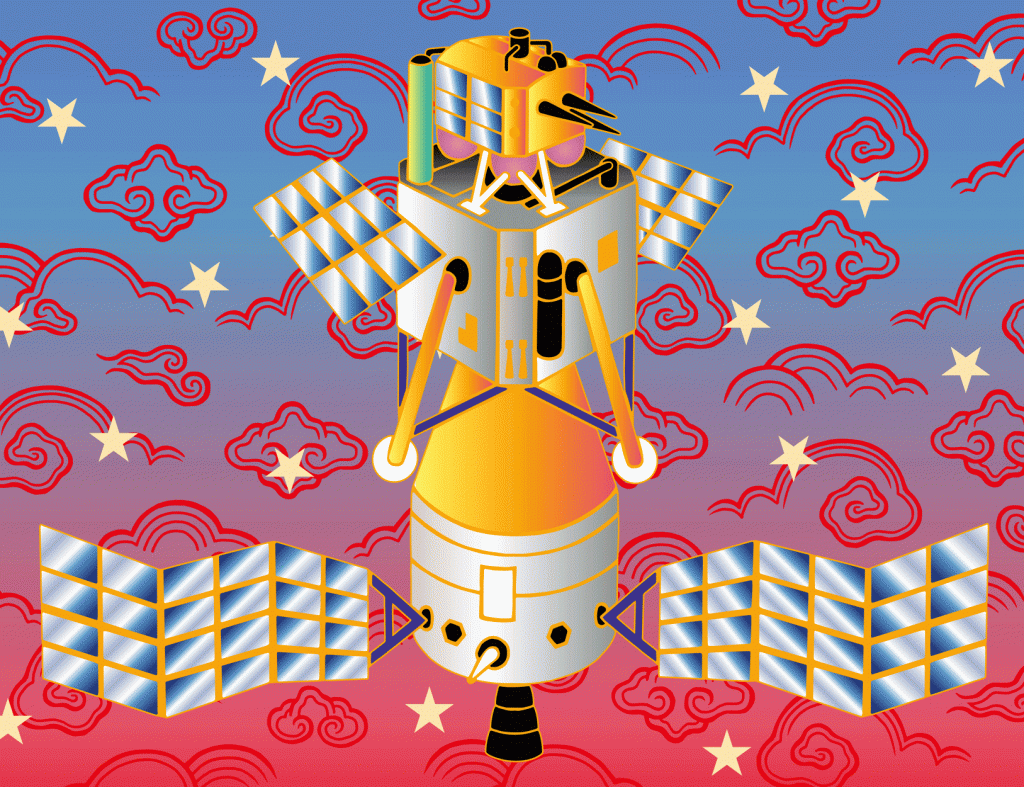 Chang'e 5
This is the central icon of the artwork and represents the current pinnacle of China's space program. I'm a bit fan of space exploration and was inspired to finally see a (successful) new mission to the Moon – and wanted to commemorate this within the sculpture.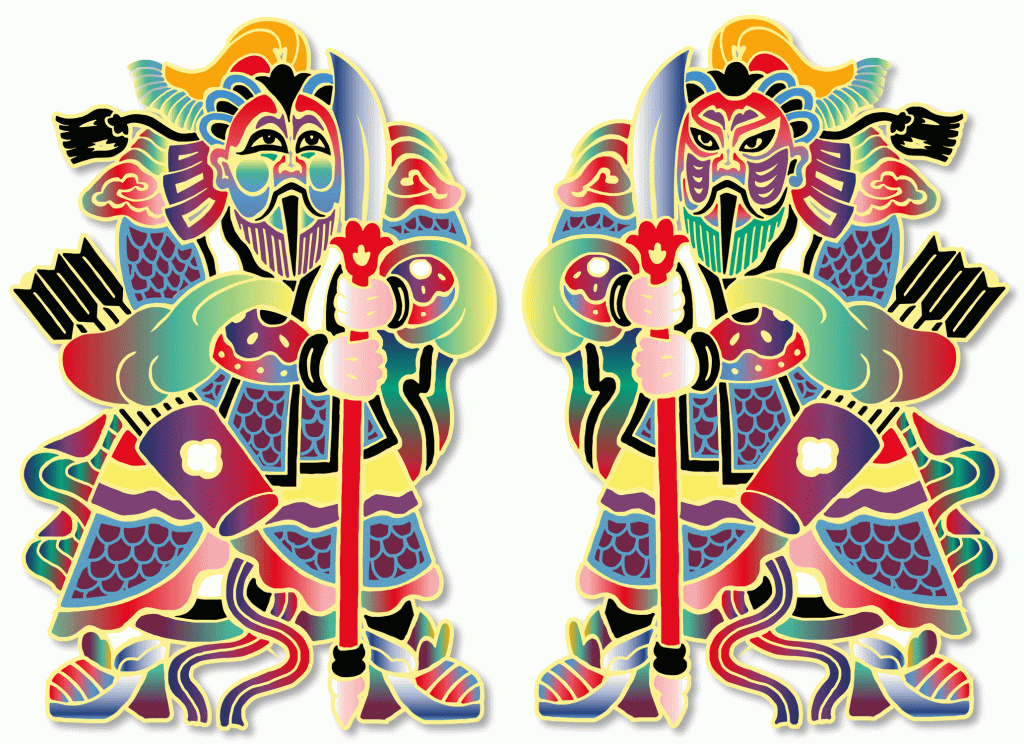 Menshen
These are traditional figures in níanhùa, and were placed on doors & gates as protective guardians. On this sculpture, they are located on each of the Ox's front legs – and face forwards – possibly protecting the open 'door' in the Great Wall of China on the front of the sculpture.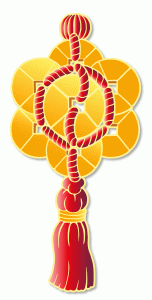 Coins
As part of my research into Chinese New Year, I kept coming across images of coins tied together with red string. Clearly these are a symbol of good luck and prosperity, and so I wanted to include them somewhere within the work!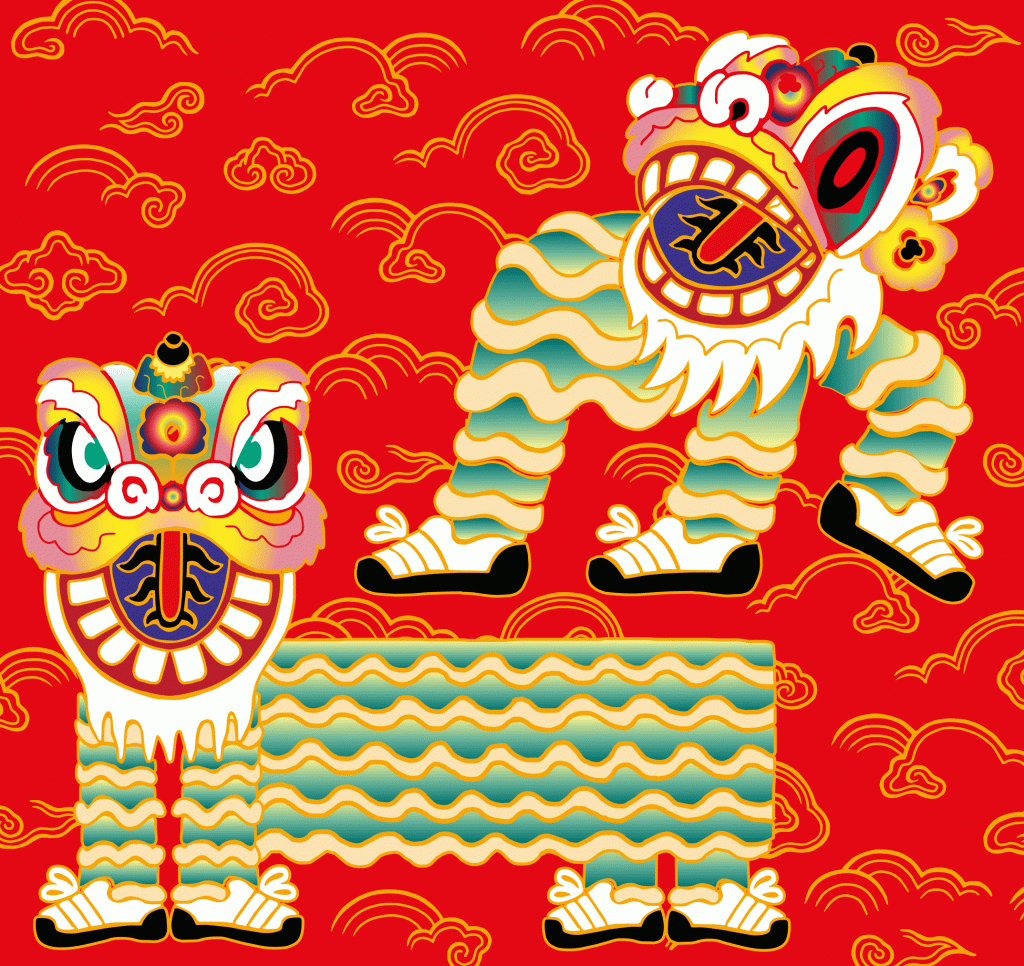 Dancing Lions
One of the few things I knew about Chinese New Year before this project was the dancing lions. I absolutely love the costume designs, with their articulated mouths and eyebrows, and the way you can see the feet of the people inside the costumes – a reminder of the teamwork required to produce such an amazing performance.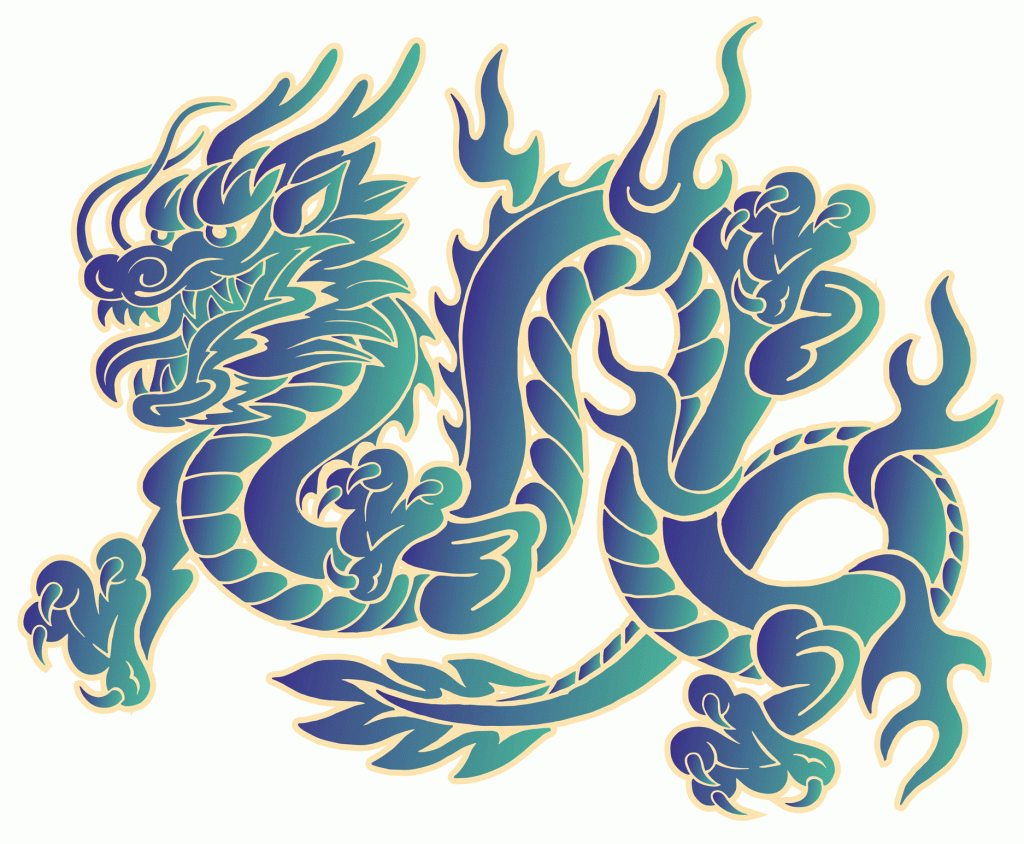 Dragon
Having been born in 1976 – the Year of the Dragon – I've been a fan of Chinese dragons for as long as I can remember, so it was absolutely necessary to include at least one in this artwork. I studied several examples of traditional dragon designs before creating my own version, which appears as a recurring motif on the surface of the sculpture.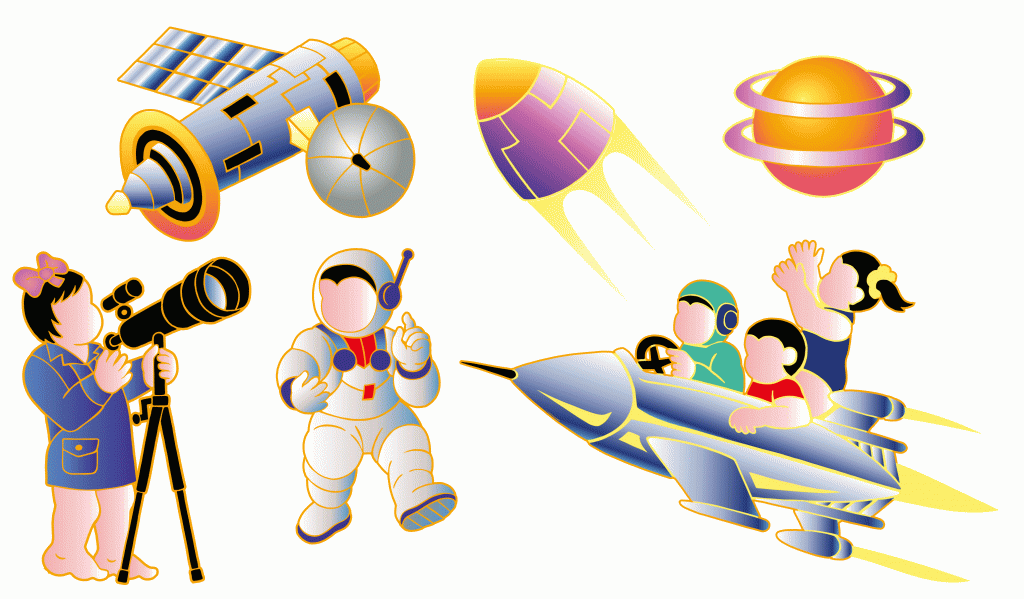 Outer Space
Most of these icons are derived from mid-to-late 20th century New Year Pictures, which featured contemporary themes including the space race. I particularly love the image of children driving a spaceship as if it's a convertible car!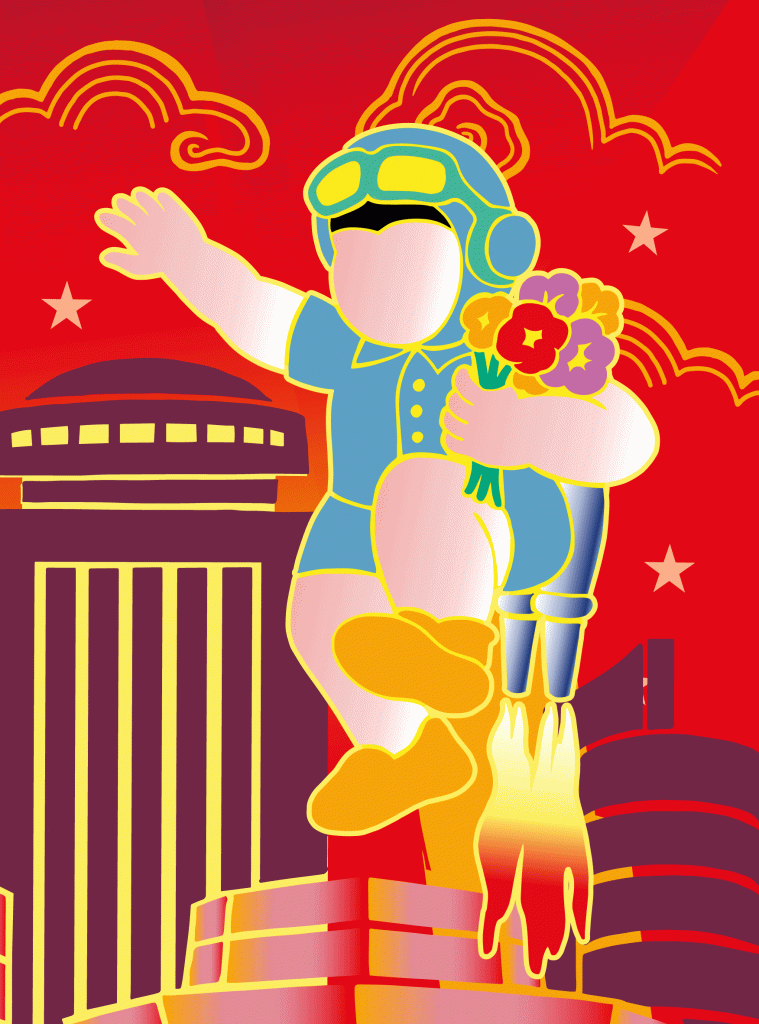 Rocket Boy
For some reason this was the image that brought the whole artwork together for me. There was such a mix of old and new in this image of a boy with traditional aviator goggles and a rocket pack. It represented the collision of past, present and future that I wanted the piece to capture.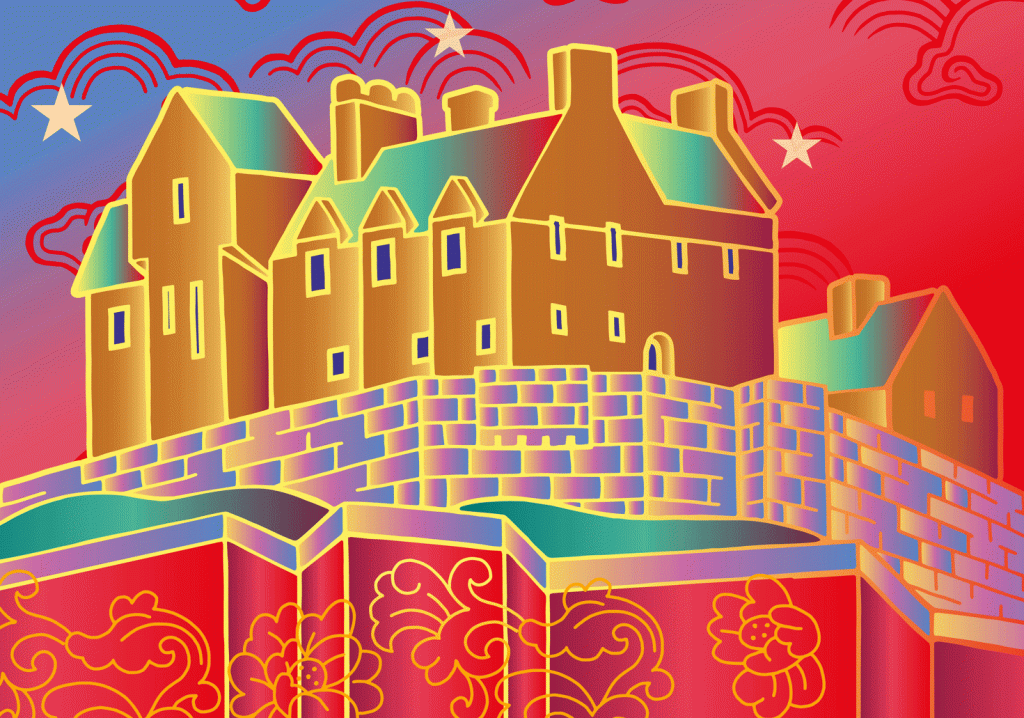 Edinburgh Castle
The term 'citadel' means a fortress, usually above a city – which perfectly describes Edinburgh Castle. The image of Edinburgh Castle fused into the Great Wall of China was inspired by an advertisement for Edinburgh Airport sent to me by a colleague while I was researching the project.
The Great Wall of China
I was lucky enough to walk a section of the Great Wall of China with my wife in 2005 – it was a truly stunning experience (not to mention a good workout!). This icon appears alongside the image of Edinburgh Castle to highlight the close connection between China and Scotland.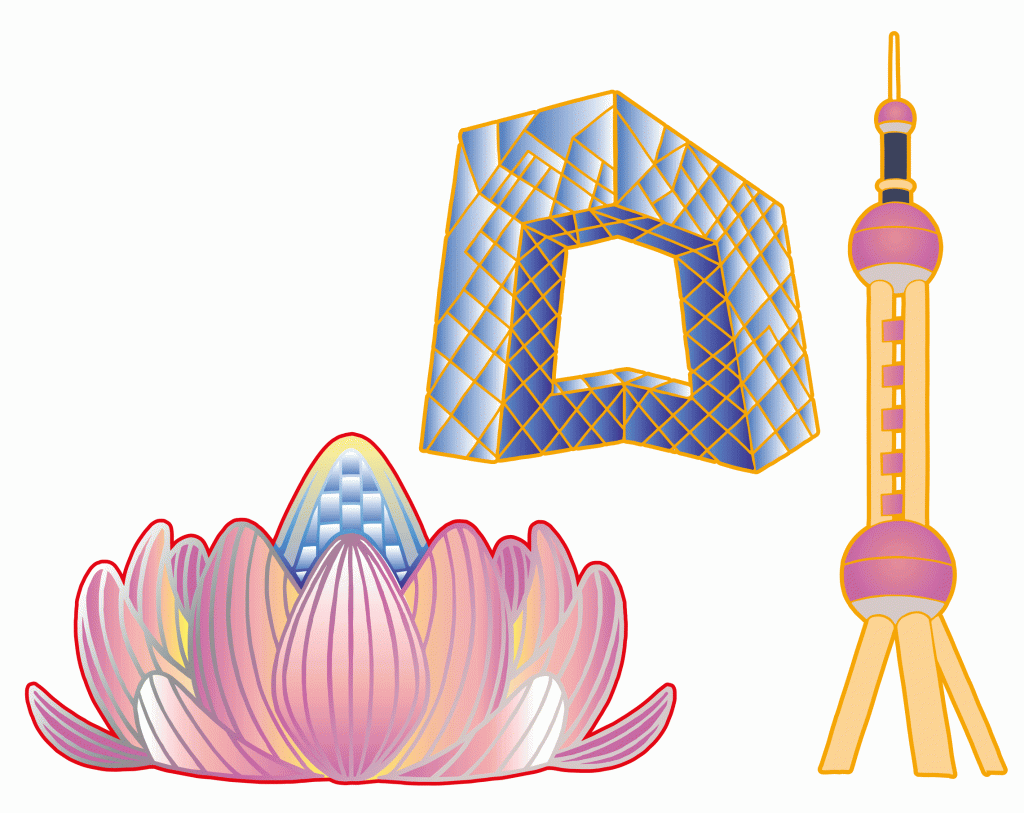 Futuristic Architecture
One of the most exciting things about China, from an outsider's perspective, is the astonishing architecture that has emerged over the last few years. I wanted to capture this futuristic aspect of the country– as well as its more familiar, traditional architecture such as the Great Wall.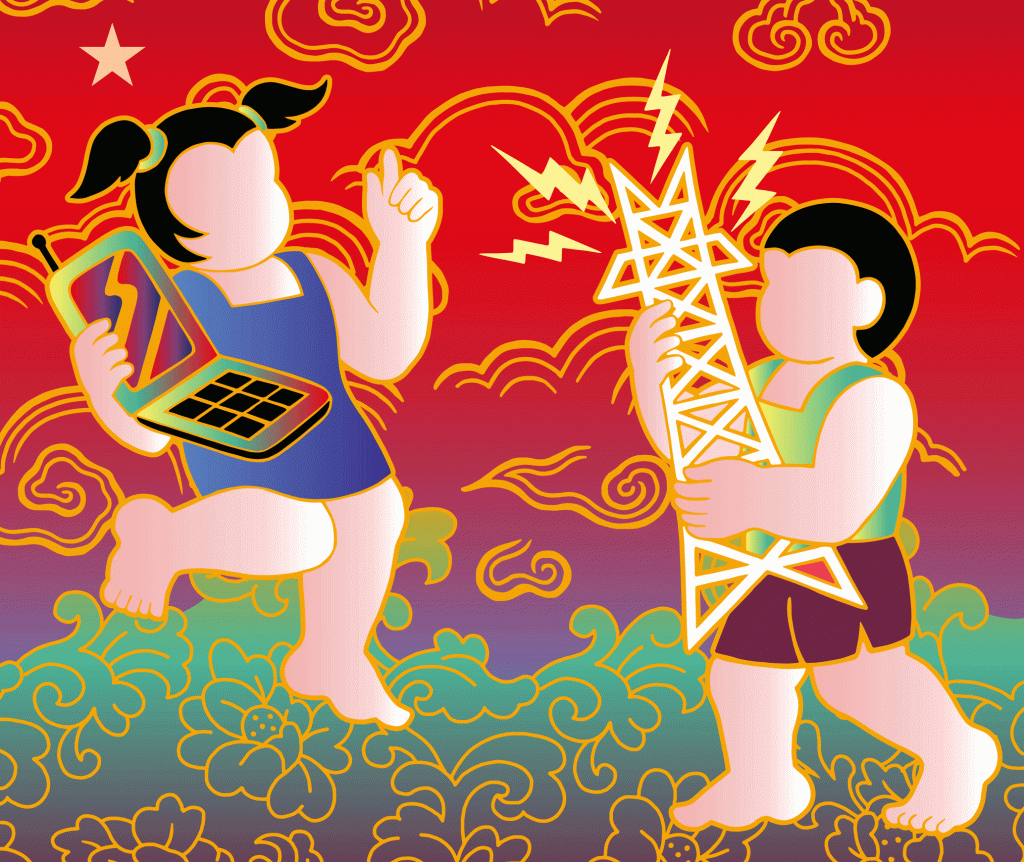 Telecommunications
China is one of the world's leaders in telecommunications and is responsible for the manufacture of so many goods we use in daily life. The boy holding the electrical tower is inspired by a mid-century illustration – while the girl with the mobile phone is my own creation.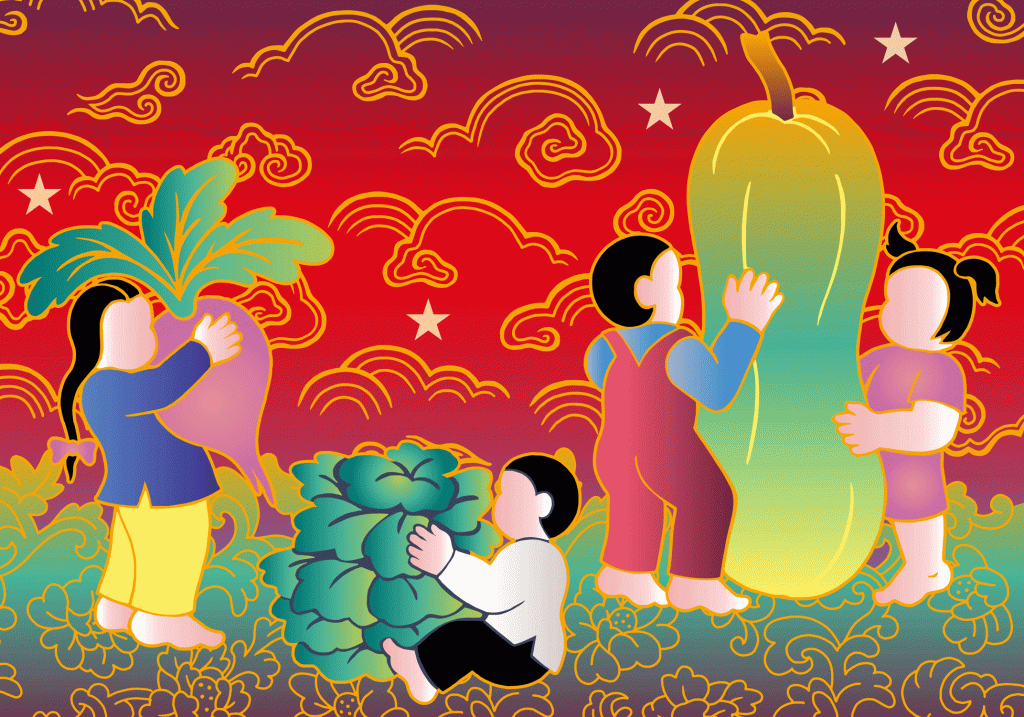 Farming
Many of the mid-20th níanhùa attempted to promote key industries, including farming. These images are from various posters featuring infant farmers growing colossal vegetables!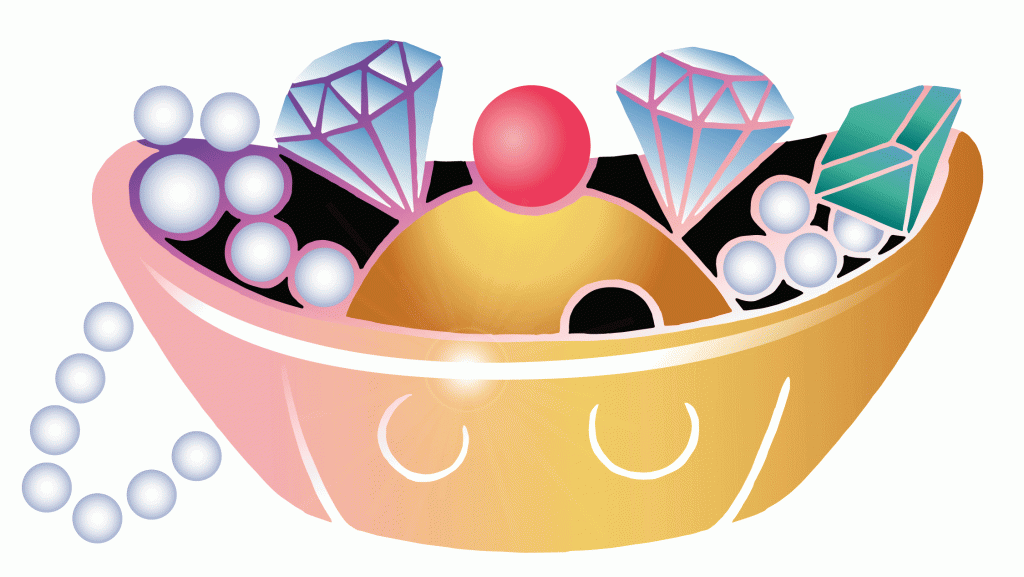 Sycee
I was intrigued by images of sycees, their boat-shaped form, filled with jewels. They appear to be a symbol of wealth or good fortune & are associated with the New Year festivities.