Join us for this Easter Intensive Business Chinese Course for 2023!
WEEK 1: Tuesday April 18th – Friday April 21st Register Here
WEEK 2: Tuesday April 25th – Friday April 28th Register Here
Each day will run from 10:00 – 16:20 with a lunch period in between
Please see the course timetables and descriptions below: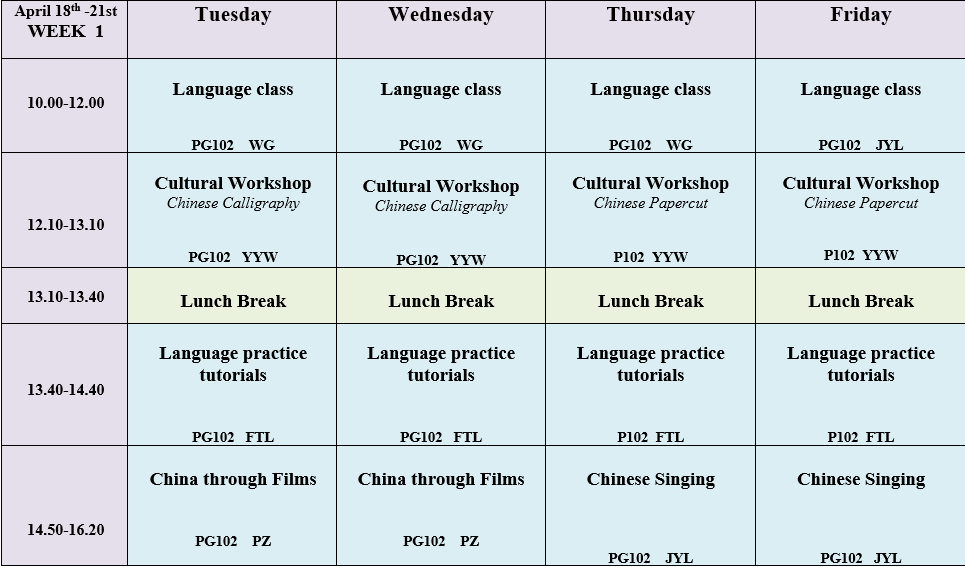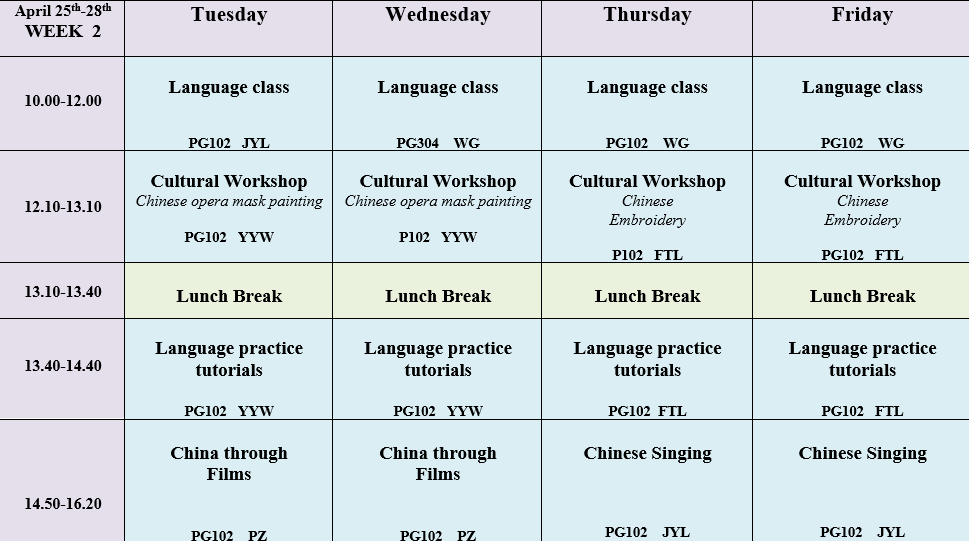 Course Descriptions:
Language Class
This course is designed for those who want to have an intensive training for Chinese language. It covers all aspects of language learning, i.e. listening, speaking, reading and writing. Your Chinese language proficiency will be greatly improved after this two-week intensive practicing.
Language Practice Tutorials
This course will focus on the practice of the Mandarin learning. The teacher will give the proper questions and practice according to the students' level. And after discussing and doing the practice, the students will have a better understanding about the HSK test and Mandarin.
China through Films
In this class, you will see Chinese films on different subjects. China does not only have martial arts and action films, but also excellent comedies, suspense films and literary films. Through the various films we hope to give participants an insight into the culture and history of China and the lives of ordinary people. All films are accompanied by English subtitles.
Chinese Embroidery
In this course, the students can learn one of the greatest Chinese culture, the Chinese embroidery. Students can learn many Chinese embroidery rules such as long and short needles. And the teacher will also teach them how to make the double-side embroidery, which is the embroidery work that look identical from both sides. After this class, the students can make their own work.
Chinese Opera Mask Painting
Beijing opera is one of the principal genres of regional drama in China, the most distinctive features of which are the costumes and facial masks. This lesson will introduce a special make-up method. And it will also introduce the cultural characteristics in Beijing Opera through the facial features of different Peking Opera characters. In this lesson, by learning about the dots, lines, colours and shapes in Opera mask painting, we will create bold and exaggerated Opera masks.
Chinese Singing
Singing songs is a funny and relaxing way of learning Chinese. It suits language learners or people who love singing. You will learn two to three popular Chinese songs to be part of this Chinese course.